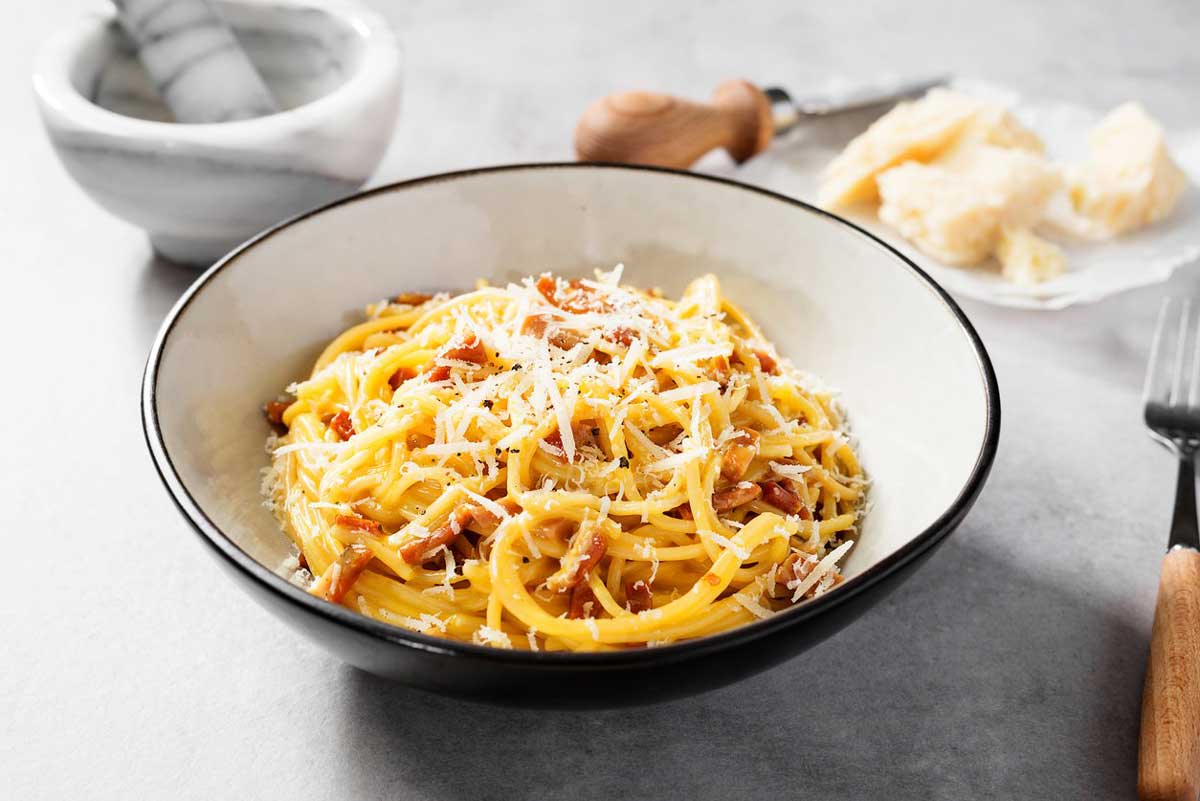 Spaghetti Carbonara
Preparation Time:  15 mins
Ingredients
500g spaghetti
200g Fabbris Guanciale (can also use Flat Pancetta)
8 egg yolks
1/2 cup pecorino romano cheese (grated)
¼ cup grana padano cheese (grated)
2 cloves garlic
Pepper to taste
Salt
Method
Step 1
Put a pot of salted water on high heat to cook the pasta. Once boiling, reduce.
Step 2
Remove rind from Guanciale or Flat Pancetta. Slice into ½ cm slices and then into strips approx. 1cm thickness. In a non-stick pan on medium heat, add the Guanciale or Pancetta and brown for 10 minutes (6 minutes Pancetta). Add chopped garlic and fry for another 3-5 minutes, careful not to burn Guanciale/Pancetta or garlic. Once cooked, turn off burner and set aside.
Step 3
Once salted water is boiling, cook until al dente (this may be 1-2 minutes less than the time indicated on the packet.
Step 4
In the meantime, pour the yolks into a bowl, and add most of the pecorino cheese (the remaining will be used for serving). Season with black pepper and whisk with a fork by hand.
Step 5
Drain the spaghetti al dente directly into the pan with the Guanciale/Pancetta. Stir it together.
Step 6
Poor the egg and pecorino mixture into the pan. Toss over low heat until well combined. Serve immediately with some parmesan cheese and cracked black pepper.