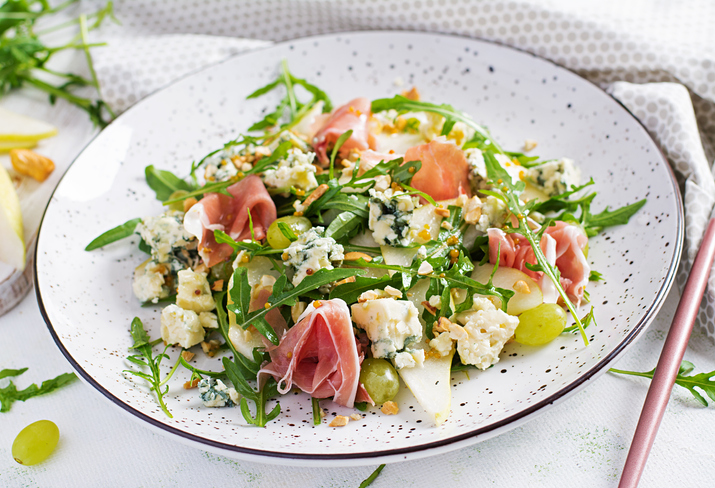 Prosciutto, Pear and Blue Cheese Salad
Preparation Time:  15 minutes
Ingredients
SALAD
100g arugula / rocket
8 slices Fabbris Prosciutto, thinly sliced
120g blue cheese
1 pear, thinly sliced
½ cup green grapes
1/3 cup slivered almonds, lightly roasted
DRESSING
¼ cup olive oil
Balsamic glaze to drizzle
Method
Step 1
Place slivered almonds in a skillet or small frypan (no oil) over medium heat. Heat, shaking the pan and stirring with a wooden spoon, until the nuts are golden brown 3 to 4 minutes. Stay at the stove because the nuts can easily burn! Set aside.
Step 2
Prepare Prosciutto by tearing apart into pieces. In a medium salad bowl, arrange arugula, prosciutto, sliced pear and grapes. Crumble blue cheese over the salad. Add slivered almonds.
Step 3
Drizzle with olive oil and desired amount of balsamic glaze and toss.